As part of my degree in sports therapy, I completed a research project on lower back pain in cycling.
The research showed that a smaller trunk angle (being lower and closer to the bike) and younger age were associated with non traumatic lower back pain, however this was not a statistically significant result.
Trunk angle data was shown to be normal, however pain scores were skewed towards lower scores. This may have been because pain is very subjective, asking people to remember their experience of pain from several months ago may be unreliable or the questions asked may not have been well structured. It may also be that the nature of chronic low back pain is that it persists at a lower level and this allows people to continue to exercise. Pain science continues to be a complex but equally fascinating subject!
Future research would focus on using a stratified random sample (focusing on just those with lower back pain) and a larger sample size with equal numbers of males and females. Participants could also use a diary to make self reporting more accurate.
The age result was surprising, as lower back pain has been shown to increase with age in the general population.
Unfortunately we were not able to persuade equal numbers of male and female participants to take part and lacked female participants, particularly in the road cycling group, so it wasn't possible to draw too many conclusions here. There is the potential for pain experience, as well as hip angles, to be different between men and women but we can't study it without willing participants!
This study may act as a pilot study for my final dissertation, which I hope to submit in May 2020.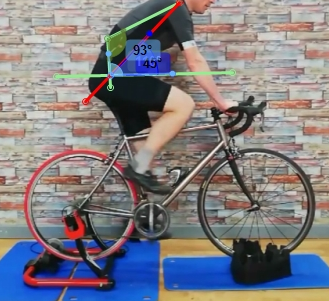 References:
Carmont, M. (2008) Mountain biking injuries: a review. British Medical Bulletin, 85, pp. 101-112.
Clarsen, B., Bahr, R., Heymans, M., Engedahl, M., Midtsundstad, G., Rosenlund, L., Thorsen, G. and Myklebust, G. (2015) The Prevalence and impact of overuse injuries in five Norwegian sports: Application of a new surveillance method. Scandinavian Journal of Medicine and Science in Sports, 25, pp. 323-330.
Clarsen, B., Krosshaug, T. and Bahr, R. (2010) Overuse injuries in Professional Road Cyclists. The American Journal of Sports Medicine, 38, (12).
Clarsen, B., Myklebust, G. and Bahr, R. (2013) Development and validation of a new method for the registration of overuse injuries in sports injury epidemiology: the Oslo Sports Trauma Research Centre (OSTRC) Overuse Injury Questionnaire. British Journal of Sports Medicine, 47, pp. 495-502.
Dingerkus, M., Martinek, V. and Kolzow, I., (1998) Mountainbike related injuries and overuse syndromes [in German]. Deutsche Zeitschrift für Sportmedizin, 49 (8), pp. 242-4.
Froboese, I., Lücker, B. and Wittmann, K. (2001) Overuse symptoms in mountain bikers - A study with an empirical questionnaire. Deutsche Zeitschrift für Sportmedizin, 52 (11), pp. 311-315.
Kronisch, R. and Pfeiffer, R. (2002) Mountain Biking injuries An Update. Sports Medicine, 32 (8), pp. 523-537.
Oliveira, I., Costa, L., Garcia, A., Miyamoto, G., Cabral, C. and Costa, L. (2018) Can demographic and anthropometric characteristics predict clinical improvement in patient with chronic non-specific low back pain? Brazilian Journal of Physical Therapy, 22 (4), pp. 328-335.
Pfeiffer, R. and Kronisch, R. (1995) Off-Road Cycling Injuries. Sports Medicine, 19 (5), pp. 311-325.
Rodseth, M. and Stewart, A. (2017) Factors associated with lumbo-pelvic pain in recreational cyclists. South African Journal of Sports Medicine, 29.
Sabeti-Aschraf, M., Serek, M., Geisler, M., Schmidt, M., Pachtner, T., Ochsner, A., Funovics, P. and Graf, A. (2010) Overuse Injuries Correlated to the Mountain Bike's Adjustment: A Prospective Field Study. The Open Sports Sciences Journal, 3, pp. 1-6.
Van Hoof, W., Volkaerts, K., O'Sullivan, K., Verschueren, S and Dankaerts, W. (2012) Comparing lower lumbar kinematics in cyclists with low back pain (flexion pattern) versus asymptomatic controls – field study using a wireless posture monitoring system. Manual Therapy, 17 (4), pp. 312-317.
Van der Walt, A., Van Rensburg, J., Fletcher, L., Grant, C. and Van der Walt, A J. (2014) Non – traumatic injury profile of amateur cyclists. South African Journal of Sports Medicine, 26 (4), pp. 119-122.